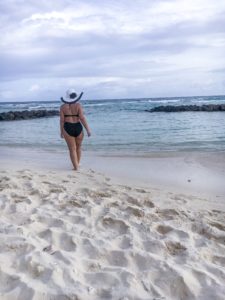 By Marla Fox.
Anyone who knows me knows that I love to travel, especially anywhere tropical. I love the beach and the warm and the sand and all that comes with it. Hanging out in the sun and fun all day means having the perfect bag at arms reach with the essentials inside.
First things first, you need the perfect bag! If you are flying and packing light, then this bag can double as your purse , so pick one that is as stylish as it is functional. I have found through many trips, that a natural material is better. I love straw beach bags! They look like you are ready for the beach, but without being over the top stylized. Also consider who you are carrying for. If its just you, then a smaller one will do, like this one from ASOS. If you have kids along remember that numerous towels can take up a lot of space. Love this big one from Neiman Marcus.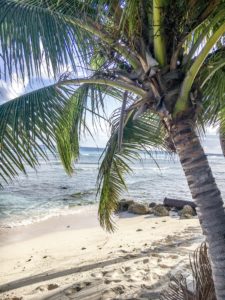 Now that you have a great bag, lets fill it up….
1. You are gonna need the towel that i just mentioned, maybe even an extra one so that one stays dry for laying on.
2. Then its the sunscreen! Now, this is a whole article itself, stay tuned for my thoughts (and recipes) about this necessity. Don't forget a chapstick with SPF for the even more fragile lips.
3. Sun hat! Not only for extra protection for you face, but for that fabulous hair color you're rockin'. I love this packable one from J Crew.4
4. Leave in hair conditioner/ UV protection for those tresses . I don't leave home without my travel size Unite 7 Seconds Leave In Detangler Also, if you have longer hair, make sure you have some pony tail holders or a headband, along with a brush, to stay looking put together even with wet hair. You never know who's watching.
5. Sunglasses, and their case ( if you have a problem with buying designer shades like I do) so that they don't get scratched while you dip.
6. A book or magazines, sometimes the glare from the sun makes reading a electronic reader, like a Nookor your phone, hard to see.
7. Headphones or a small bluetooth speaker, so you can listen to your favorite summer playlists…of course, The Twins have some suggestions for you . (Link to playlist)
8. Water, water, and more water. Get a nice sized refillable bottle to stay hydrated.
9. Snacks!! This is a must have for a long day in the sun, especially if you have kids. Protein bars, fruits in natural cases(like bananas an d oranges) and nuts all have hunger satisfying protein and fiber.
10. Last, even though its technically not in the bag, make sure you have the perfect cover up! I love a sundress, that still looks put together, in case you need to run in somewhere for lunch. Check out this one from L-Space