By Drew Friebe
When it comes to the world of Men's fashion everyone has their take on what makes a gentlemen, what to wear and how to wear it. However what happens when there isn't a script or pinterest board to pick from? Well we at The Virgo Effect made a list of the best essentials a man can have that will allow you to mix and match and grab and go without finding a Rosetta Stone somewhere in the white tents of fashion week.
Here's what made our list at The Virgo Effect.
Shirts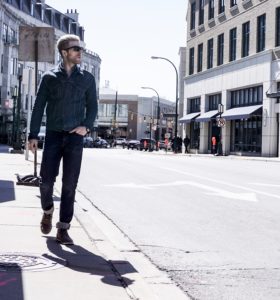 When it comes to putting on a shirt we wanted to give options but keep it simple. Here are some great picks for the guy on the go that will work in just about every situation. You want your shirts a little more fitted as they will keep them looking clean. I recommend finding a good tailor in your town as their skill can turn a less expensive item into something that is perfectly fit for you and a lot more customized.
White – T- Classic, effortless and sexy. White T-shirts have been a strong item in any mans closet for decades and will continue to stay as such. The one thing you want to make sure of when buying yourself some White-T's is the fit. Take the time to find a more fitted version of your favorite shirt. This will make your physique appear more solid and build and it will give you a cleaner overall look.
Polo- Another great staple the polo is a shirt that you can throw on to give any look a more put together vibe. Think more handsome guy at a cookout rather than the horrifying popped collars of your youth.
Chambray- Like the Denim Jacket, the Chambray shirt gives a lived in, rugged, natural, masculine appearance to any look its applied to. Looks great with a pair of camel chino's or trousers and a good boot.
Tailored Dress Shirt – Like the White T a White Oxford is a must. It can be dressed up or down depending on the desired look and works great on its own. This is another item that you want fitted because as its more of a basic you want the fit itself to really give it an overall clean, put together appearance.
Cardigan- The gentleman's sweater. A Cardigan gives a well put together appearance anytime it is thrown on. Most are light enough that you can be very versatile with them and depending on your body style you can get them relaxed or fitted to focus or draw attention from depending on your body style and comfortably.
Pants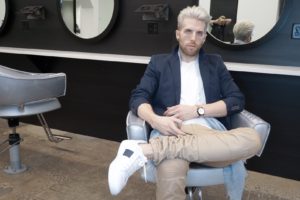 A good pant should be fitted with only a single break in it and fit nicely above the hip. This elongates a mans shape and keeps everything structured.
The Chino – A good chino is structured, easy to wear and versatile beyond belief. I prefer one in a camel or earth tone as it opens up a lot of other options to be paired with in my closet. You can just as easily wear them with a fitted white t as a nice collared shirt or polo.
The Dark Denim – The dark jean on a man is a look that can go with just about everything. To clarify this isn't the standard wide leg jeans you've had since college that's acid washed with the knees ripped out. Leave that hobo-chic look to the high school boys and trade them in for a nice pair of fitted denim.
The Jogger- You are seeing a Jogger more and more for street styles across the map. Not to mention these pants can be dressed up or down depending on the material they are made of.
The "Not Your Fathers" Trouser- A modern pair of trousers shouldn't fit like the Zoot suits of old. Choose a darker color or grey as they will go with a lot more and make sure that the fit is customized to you. Personally I prefer a Slim or skinny tapered look, even for those guys who don't wear "skinny jeans" you want them to look as if they were made for you. Choosing a slimmer taper will help to slim you in the right areas and make you appear overall better put together.
The All Around Pant- These are going to be more of a go to pant which is why depending on the guy I leave more open-ended. I personally find a black jogger as mine. It is versatile enough that I can throw on some nice dress shoes and a button up shirt and I have nice modern cocktail attire or it can be worn effortlessly with a nice white – t, chucks and a bomber for a street wear look.
Outerwear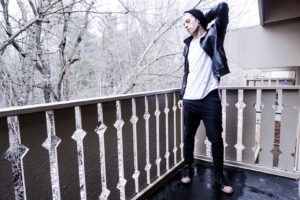 When it comes to outerwear a good piece should enhance what your wearing rather than completely cover it up. Living in the Midwest there are a lot of days where a good jacket is essential. The best news is that the following items will never go out of style and can be use to define your personal style and keep you comfortable.
All Purpose Hoodie- There really isn't enough that can be said about a good hoodie. I like mine in a Solid Grey, Navy or Black as they can be worn with a lot of different things to change a look. I sometimes will even add them with some dressier options to make a look have a bit more street vibe to it but otherwise they are great to do just about anything in.
Bomber- This is one of my personal favorites as it goes with just about everything. A good bomber should fit nicely around the waste without leaving a ton of room when its zipped up. Great open or closed it's a look that really draws inspiration from the military jackets in a very attractive, masculine form.
Leather Jacket– James Dean, Fonzie, Indiana jones, Danny Zuko… I mean, enough said right? A Leather jacket has been a staple part of menswear for decades and isn't going anywhere anytime soon. When it comes to a leather jacket take some time and find one that really works for you. They come in a million different styles and patterns each designed to showcase the personality of the wearer and the best part is they will last you forever. This is a piece you really want to spend some money on and invest in as you will have it for a long time. The better the leather the better it wears too so don't be afraid to spend a little on this
Denim Jacket- Another staple, a denim jacket can be thrown on with just about every pant option mentioned above for an effortless sexy look. These jackets draw from a myriad of past inspirations that really give a timeless look that can be recreated even now with a few modern twists.
Sports Coat- A sports coat is great for warmer weather as they come in a plethora of fabrics and styles and really allow you to showcase your personality. A Suit jacket untethered by pants, you can wear them to dress up or add a level of sophisticated personality to any look.
Navy Blazer- Like Dark Denim the Navy Blazer can be warn with most all the pant options mentioned above and tons of tops. You can throw it on with a pair of dark denim, white trainers and a fitted white T and you have a wonderfully casual weekend look. The Navy Blazer is a great piece for heading to the market, lunch with friends or heading to your favorite watering hole.
The Black Suit– Every man needs a good Black Suit. A classic look that will never go out of style and you will need throughout the rest of your life. I recommend seeing a suit specialist and take some time to figure out how you want it to fit and where. Another piece that it's good to spend some time and money on as you wont replace them that often.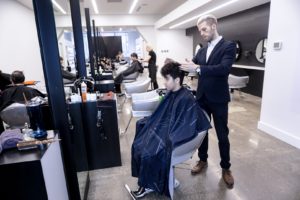 Shoes
Think of your shoes as a foundation to the whole look. They set the tone for the rest of the outfit and are usually one of the first things people notice.
White Trainer- The white Trainer comes in various shapes and sized and just about every brand has one. Why is that? Because they are probably the most versatile shoe you can have. They go great with jeans, joggers, trousers and chinos to give a really clean option to any look.
Boot- Every guy should have a good boot. They go greatly with a suit or denim depending on the style and are a great option when you want to ditch the traditional dress shoe for something with a little more personality. 
Loafers- The loafer is an amazing shoe because, like a lot else on our list, it has a ton of different looks it can be worn with. You can pair it with just about any pant depending on the look you want to achieve and they give an all around well put together feel to an outfit.
Black Oxford- A staple shoe that will never go out of style and can be worn with most options to elevate a look. Great with a suit, trousers or chinos for a classy elevated look or even worn with nice joggers to add some personality and flare.
 Brown Brogue- One of my favorites, they go well with most pant options and are a must have for any guy as they allow you to incorporate earth tones and an entirely different pallet of color into your wardrobe and is even great to wear with Denim and a Navy Jacket for an elevated casual look.
Accessories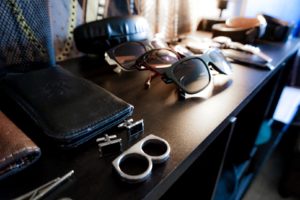 The finishing touches that make it all look complete.
Black Tie– Classy, A must have. Simple and clean that can be added to any suit or dressier occasion to give that classic masculine feel.
White Pocket Square– Another Classic piece the Pocket square adds the right touch of sophistication and class to a suit and lets people know you took that little extra effort to put your look together.
Black Leather Belt – Not only for keeping things where they need to be but great to cut a look or make it appear complete.
Brown Leather Belt – Millions of possibilities other than keeping your pants up Great to break up an outfit and add more earth tones into a look with your Brown Brogue and Navy Jacket.
A Nice Timepiece– I personally feel more guys should own more watches but every man should have at least one. A good watch is like a men's Diamond. They add a level of sophistication and masculine charm to any look as well as being functional.
Sunglasses– Sunglasses are such a personal item as they come in just about every size, shape and color imaginable and offer symmetry to most face shapes making them appear more attractive. Talk to a specialist or read up on what styles offer the best suitability for your face shape.
Undergarments- It should go without saying, but it doesn't. Throw out those old underwear that are bagged out in all the wrong areas with broken elastic. I personally never got the Boxer fad they are usually bunched up and offer no support. But many brands make great options for Boxer Briefs, Trunks and Briefs that are well put together, offer good support and are even fun to look at.