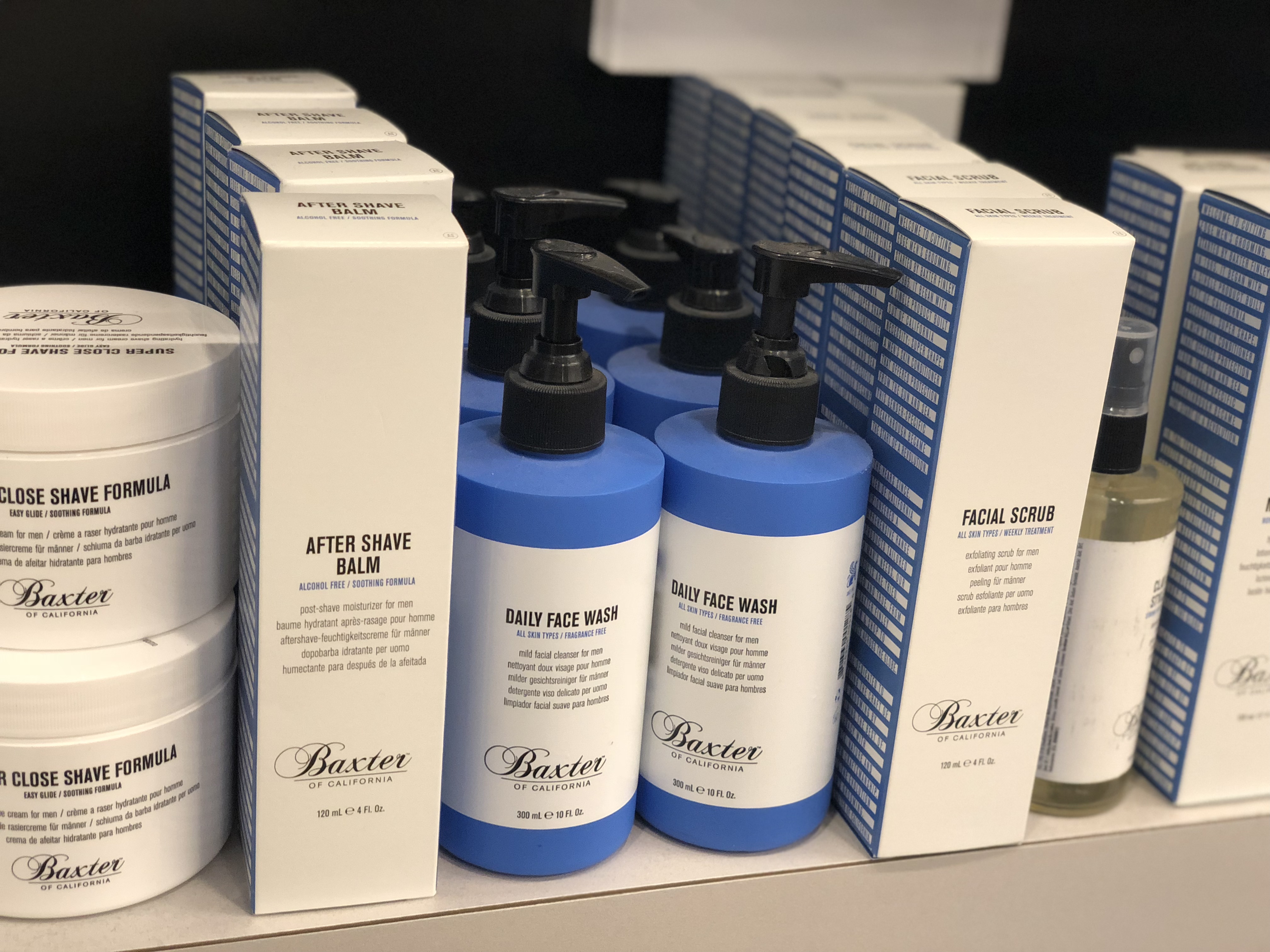 Hey Team! 
We at the Virgo Effect are product obsessed and it's easy to see why. Who doesn't love opening up a new product and trying it out.  All your hopes and dreams wrapped up in a tiny little package that will hopefully make your life 10 times easier right?
We understand that new product testing isn't always a positive experience and that's why we wanted to give you some reviews of our favorite product so you can get some info on what to use before spending your hard earned money on a product that may or may not flop.
Having said that, Baxter of California is a total home run when it comes to a full service line for men.  Their skews incompass a wide variety of uses including hair, maintenance, shaving and even bath products. 
 Let's go through the basics on the line and some of our favorites together so that you get all the information that you need. 
Hair 
One thing that we love him back to California is that they have a wide variety of products really work for everyone. As well as having a versatile products they often give you an option A for lighter hair textures and less hold or option B, for stronger hold and thicker textures and it doesn't matter the type of finish you like. They have something that will work for everyone. 
High shine finish
Soft Water Pomade- SWP is a high shine, light hold product that acts a little like a traditional pomade but with less hold for a more touchable soft feel. Great for more undone or softer classic shapes.
Hard Water Pomade- Hwp is a high shine, high hold pomade. This is going to act like your more traditional pomade with a lot of hold and high shine. Greaser life here we come!
While both of these products give you a high shine and classic pomade feel the best part about them is that they breakdown really nicely with shampoo. Unlike some of the other products we have tried it doesn't leave a waxy residue in the hair so you feel in style but not weighed down by either.
Natural Finish
Cream Pomade- This product is by far my favorite in the line. I tried to use it on as many people as I could for a month to see if there was any textures that I didn't like it on and to be honest, it worked in every scenario. It can be used for classic styles, side parts and even more textured and lived in looks. With a natural finish it has a good amount of hold and still leaves the hair touchable and soft. Look for this product on some of our upcoming favorites lists as we cant get enough of it!
Hard Cream Pomade –  Here's option B for someone who wants that natural finish but wants a little more bang for their buck. The HCP gives a firmer hold for those who have a more course texture of hair and need a little more support.
Matte Finish
Clay Effect Styling Spray- The CESS is one of my favorite products on its own and layered with any other. It has a very matte finish but enough grit to really give hair some nice volume and texture with a very lived in feel. This is one of the reasons ill use this product first and layer whichever over it for additional support. The product does have a decent amount of hold and I have found works for most hair  textures.
Clay Pomade- This product is a very high hold, no shine product that is great for very textured looks. It can be used easily to do more classic shapes but you may have to add some heat to the product to break it down a little for ease of application. It definitely has a good amount of grit to it that gives an amazing amount of texture for anyone who likes a more lived in feel. 
Skin
Deodorant – This is without question the product I love MOST from Baxter. I know, I know kinda weird but try it and you will see why! Its aluminum and alcohol  free so while it lasts all day it wont turn your shirts yellow from sweat and always leaves a really nice fresh feeling. Even someone who sweats a decent amount, myself, it controls it all day and is one of my personal must haves. Try it today and you wont be disappointed. 
Daily Face Wash – I'm not going to lie I LOVE this face wash. It is gentle enough that it doesn't leave your skin begging for moisture but it is powerful enough get through any dirt, sweat or grit that may have been involved in your day. I personally still use this product as with sensitive skin its hard to find products that work really well without irritation and I've definitely found it in the Daily Face Wash.
Facial Scrub- I love this as its an almond scrub that works amazingly! I use this once or twice a week to remove any buildup of oil, sebum and dirt that may have escaped my daily routine. I love it because its got enough scrub to it that it actually feels like its doing something compared to other products I've used.
Oil Free Moisturizer- Here is another of my favorites. I find myself using this moisturizer more and more because it leaves your skin feeling refreshed and like the name states, oil free. A definite must have for any travel bag or medicine cabinet. 
Shaving
Shave Tonic- This tonic I use on all my male clients before cleaning up. I love that you can add heat to it and it will open up the pores and allow for a closer shave or you can use it after to help calm skin and close down opened pores. 
Super Close Shave Formula – This is another product that gets used daily with my male clientele for cleaning up hair. We LOVE this product, it is very moisturizing and leaves your skin feeling amazing as well as getting a reallllly close shave. I know a lot of women who buy this product for their legs as they also love how it leaves the skin feeling when finished. 
After Shave Balm – ASB is my current favorite after shave. It is alcohol free so you wont run into any home alone scenarios, aka it doesn't burn for our younger crowd, and it penetrates the density of men's skin to leave a very clean, moisturized finish.  
Bath
Invigorating Body Wash  – If you are a body wash kinda guy this one does not disappoint. It is powerful enough to wash the day away and leave your skin touch-ably soft for the more intimate moments. 
Deep Cleansing Bar – Charcoal is a huge buzz word right now and its easy to see why. This bar soap is amazing because not only does it leave your skin soft and debris free it helps to detox  away any less than desirably toxins your skin may be carrying from the day.
Vitamin Cleansing Bar- This is my personal favorite! I love the way it makes your skin feel and while it comes in a variety of scents the Italian Lime and Pomegranate Essence is heaven! It has Aloe-Vera in it to moisturize your skin nicely as well as sunflower seed oil. With all that it also is paraben Free for any of my guys who have sensitivities to parabens. A definite must have, I love the way my skin smells all day using this product. 
Baxter has a lot more than just this to offer but these are some of our favorites here at  The Virgo Effect. You can find them at a Salon or Shop near you or you can order them from BaxterofCalifornia.com