By Marla Fox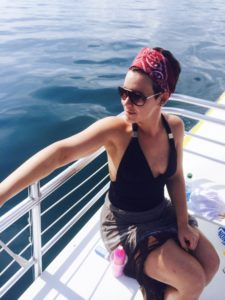 I love the sun. I love to lay in it, to be honest. I know, I know…it's not good for your skin. I'm not talking about laying out in it all day everyday ( I know some who do…ahem Mom), but if I'm on vacation, you better bet you are gonna find me posted up in a chair in the sun with a drink in hand for most of the day. During the summer, I love to be outside in the sun even if it's not on vacation. It just makes you feel good, ya know?
The way I see it, you skin was made to be in the sun, that's why we have melanin. I really don't even like to use sunscreen, but as someone who suffers from melasma, my esthetician would say other wise.
So I do wear it on my face at least. To me, all the toxic ingredients in sunscreen getting cooked into your skin all day is way worse than some UV rays. Let's look at some of those common ingredients.
The first one I always check for, in any of my skincare or hair care, for that matter, is parabens (methyl, butyl, ethyl, propyl,isoyl). They are in everything! They are a commonly used preservative to extend shelf life. They can cause major irritations at minimal. They possess estrogen-mimicking properties which can disrupt hormones and cause reproductive disorders, and have a link to breast cancer, haven been found in tumors. Now, we have the chemicals added to actually absorb the UV rays of the sun, creating a reaction to dissipate them into the air. These include oxybenzone, avobenzone, benzophenone, PABA, octinoxate, octisalate, and homosalate. They are known endocrine disruptors, and easily absorbed through the body into the bloodstream. They can cause cellular damage, leading the way to cancers. Now how about that fragrance? This is a top allergens, and a common cause of contact dermatitis. This just barely scratches the surface! I could go on and on and on. Do some more research on the matter before you just go mindlessly lathering yourself up in toxic chemicals.
Now, like I said in the beginning, I do have to use sunscreen, especially on my face. Mineral sunscreens are one way to go! Natural minerals, like zinc oxide or titanium dioxide are ground up and added to other natural ingredients, creating an immediately effective barrier from the sun. They are not absorbed into the body and are great for sensitive skin. There are many brands out there now with natural options. I personally like this face stick from Badger p-464-spf-35-sport-sunscreen-face-stick.aspx and this lotion option from Goddess Garden everyday-natural-sunscreen-lotion. Unless you want to make one at home, which I have also been known to do (that way you know exactly what's in it, and its all the way natural). If you want to try a fun DIY project, then check out this recipe here from Wellness Mama homemade-sunscreen I have tried that recipe even with out the zinc oxide, using the SPF's found in the natural ingredients, and that worked totally fine for me. I use that on my body when I'm out in the sun all day on vaca. Many oils that you can easily find have SPF's strong enough, if you don't burn easily, which I don't. These include coconut oil (SPF 2-8), shea butter (SPF 3-6), olive oil (SPF 2-8), almond oil ( SPF 5), jojoba oil ( SPF 4), raspberry seed oil (SPF 28-50), and carrot seed oil (SPF 38-40). Mix up a few of these common oils with drops of one of the higher oils like raspberry seed or carrot seed oil, and a few drops of smell good essential oil and slather that on! Your skin will also stay super moisturized, which is a major key for a nice summer tan!
(Note: this natural oil concoction works for me, and like I said, I don't burn easily. Maybe bring a mineral version along too, till you know. Use your own judgment, and don't blame me if you get a sunburn. )