Okay, so I know there is a lot of information out there about a million different styles of diets that people swear by but how do you know whats right for you? I was, for a long time, eating heathy complete protein carbs like quinoa daily, doing roughly two hundred different sit-up exercises and becoming majorly disappointed each month with my progress photo. So much so that i almost gave up on my dream of achieving a six pack.
With summer rapidly approaching I was really frustrated and decided to go get a body composition scale. (Mine is by Nokia and I LOVE it.) The breakdown was shocking to me as at the time, a lot of days, I was doing two a days. Meaning I would do about an hour workout in the morning lifting etc and then almost two at night with HIIT cardio, steady state and a little more lifting. Once I got my scale I learned that even with all that I was at an astounding 30% body fat weighing a healthy 170. My BMI was roughly around 25 if i remember correctly.
Now for those who know me personally, no one believes that I had that kind of fat content but its the truth. With that information I began doing research on the Keto diet after a coworker and friend mentioned it might be a good way to focus on purely the fat content and thus began my Keto Fever.
I am now three months into the lifestyle change and absolutely in love with the results. I have dropped to around 11% body fat and those abs I was chasing are out in full force!  Now let me precedent this by saying that it is NOT for everyone. First off it is a very strict diet with absolutely zero cheat days. You have to train your body to use keynotes for energy which are derived from fat putting you in Ketosis where your body is running strictly off fat. Meaning if you have to many carbs (Even over 10g a day) in my experience it will throw you out of ketosis and you have to start over again.
Now when you first start off it is definitely more difficult while you are training your body to run on Ketones. This is the point when you will go through what we call the Keto flu. It is the basic period of withdrawal that comes with stopping eating all the carbs. I went through a few days of feeling lethargic and a little down while the main thing I noted was not having the normal brain power I used to as your brain has to switch fuel sources too. There was definitely a few instances where I found myself staring at walls. This goes away after about 7-9 days but it can be a rough transition depending on how many carbs you eat etc.
The diet is difficult for some people who don't eat high fat foods and who crave sweets because your sugar intake has to be fairly negligible however you can have as much sour cream, butter, cream cheese and avocados as your little heart desires. But bread is out, most non-leafy veggies are out, fruit is completely out and so are sweets.
I know it seems like a lot but there are really two ways to go about getting the body you want, work out like an absolute fiend and eat whatever you want or eat really well and focus on a decent workout.
After the three months i can definitely say it was worth it, I have enjoyed the results all summer and only as we enter fall will I transition back to carbs so that I can bulk again for the winter. I am planning on minimally doing the Keto diet during the summer but may potentially switch back and forth over a few months as after the first transition the flu symptoms (or so Im told) are more minimal.
I will be sharing some of my favorite recipes from the diet but below are a Before and After that came with the transformation. This is just a preliminary review as I will get more in depth later but so far I am definitely going to be keeping it in the repertoire.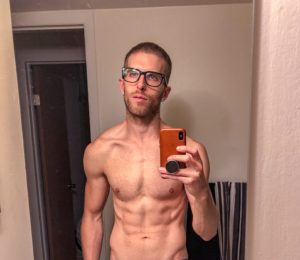 3 months after keto